Microsoft Outlook, one of the most liked email application among professionals. It creates two types of data files i.e. OST and PST file. These files are stored in your system and store entire email with associated attribute Outlook. Thus, many users have queries like if they need to backup OST file or not. If it is important, then they can do it.
So, this article gives you detailed information on the importance of OST file backup and the easiest solution to do it. However, before that, a few users know about the differences between OST and PST files. So, those users can find that out below.
Outlook creates two files as its repository to store its mailbox data i.e. OST and PST file. The OST (Offline Outlook Data File) is created when you configure your email account using IMAP configuration or when configured with Microsoft 365, Exchange and Outlook.com accounts. Whereas, the PST (Outlook Data File) is created when you configure your mail account via POP configuration.
Reasons Why Should Backup OST Files on Your System
OST files contain a copy of your Exchange mailbox items. The information stored is very important and so, cannot be ignored. It becomes essential for users to take backup of it.
There might be chances of accidental or mistaken deletion. Once the data is lost from the Exchange server, and it syncs with the OST file, then it would be lost permanently.
There is a possibility of data corruption as well where the OST files get corrupted. So, time to time backup is required so as to prevent data corruption of OST files.
After discussing the reasons, let us now discuss the best and secure ways to backup OST files.
Free Methods to Backup OST Files – Tried and Tested Solutions
In order to backup OST files, it is necessary to convert OST files into PST file format. Once converted, PST files can be stored as a backup which may be used later.
Method 1: By Using Import/Export Wizard in Outlook
The first way is by using the Import and Export Wizard.
Step-1: Open Microsoft Outlook and then choose the account from which you want to backup your OST file (in case of multiple accounts configured in Outlook).
Step-2: Click on the 'File' tab on the menu bar and then choose 'Open & Export' followed by 'Import/Export' Wizard.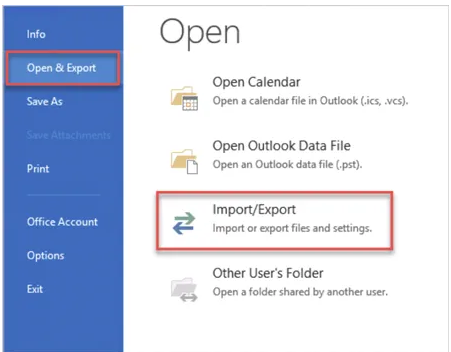 Step-3: In the next step, select 'Export to a file' option to backup data from the OST file and hit the Next button.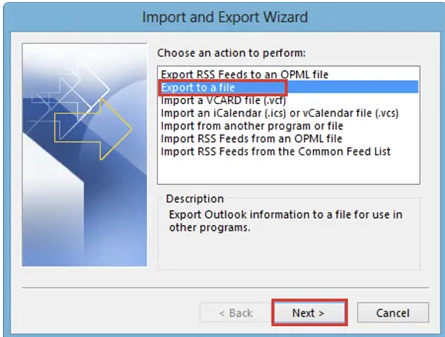 Step-4: In the 'Export to a file' window, select 'Outlook Data File (.pst) and then click on 'Next' button.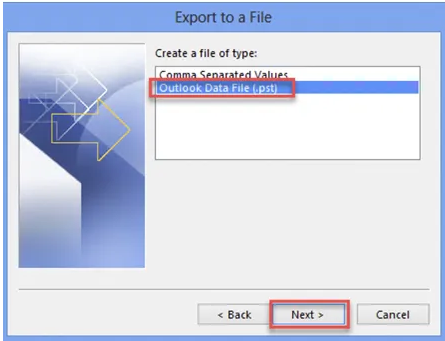 Step-5: In the 'Export Outlook Data File' window, select the folder you want to export from. If you want to backup OST file, then click on the account at the top.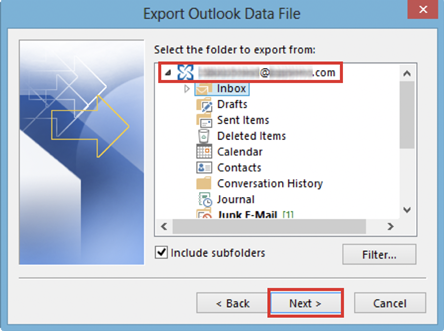 Step-6: Browse the destination location where you want to save the backup OST files. Then, click on the 'Finish' button to start the export process.
After some time, your OST file will be backed up on your system.
Limitation of Manual Method
The aforementioned method only works in scenarios when users have their account configured in Microsoft Outlook. If they are having an orphan OST file, then this method won't work for them.
Some users might find this method a bit difficult if they are not good with technicalities.
The Import/Export Wizard solution only works if you have a working Outlook. Some users face performance issues while using Outlook that makes it difficult for them to backup OST file data.
Final Say
Many users who are asking if they need to backup OST file in their system might have got their answer. Yes, it is extremely important for users to always keep a backup copy of their sensitive data. Moreover, a simplest way to backup data is also discussed to help them get their backup copy into the system.