It is extremely important to understand What Exchange Online Protection is before you use it. Basically, it is a cloud-based email service that prevents users from any kind of spam, malware, or any inappropriate content.
It works as a filter for email messages received on your Microsoft 365 account. Whenever an email is received, it first goes to the Exchange Online Protection service. Following that, the service eliminates malware, spam, phishing attempts, and many other malicious items from reaching your Inbox.
In this way, the EOP service helps users in creating a safe environment for every user even if they don't have any antivirus, anti-spam, or other services.
Why Is It Important to Use Exchange Online Protection in Office 365?
The EOP service offers solutions for numerous email-related problems and is mentioned below:
Anti-Malware Protection – This feature makes sure that not even a single malicious item goes to your Inbox. To ensure this, the feature uses various antivirus engines that run a thorough scan of the received messages. The organizations can alter the filter settings by going to the Malware Policy of the productivity suite.
Email Filtering – This filtering process of the Exchange Online Protection ensures that only the safe, genuine, and virus-free emails are entering the user's inbox. The advanced Email Filtering option makes it a very useful feature to have.
Anti-Spam Protection – The spam filter of EOP Office 365 provides users with protection from spam messages by labeling them as spam messages and sending them to the Junk folder. After some point in time, these messages are deleted automatically from the Junk folder as well. There is also a provision of checking the spam messages manually by going to the "Quarantine message" option in the Settings.
Better Environment for Messaging – This service by Microsoft provides users with a better messaging environment. By enabling this service, users experience messages that are junk and malware-free and keep users safe from various cyber threats. Additionally, all of this is offered without any extra cost.
Data Loss Prevention (DLP) – Although the email message passes through several filters to ensure malware and junk-free delivery, it is also made sure that no single bit of data is lost on the way. This advanced filter works in a way that each mail received by the user is genuine and doesn't contain any malware.
How It Actually Works?
The Exchange Online Protection processes all the incoming and outgoing emails from the mailbox.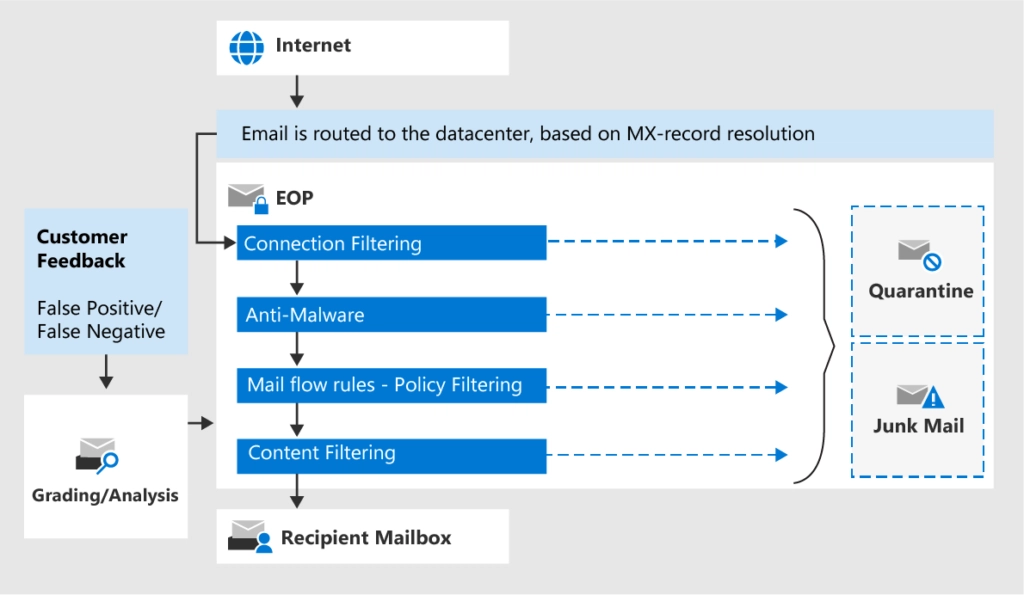 This entire process consists of 4 different steps:
Connection Filtering – In the first step, it will check the sender's reputation by checking the sender's IP address. It checks and filters out almost all unwanted emails. Additionally, you can also use a connection filter to block additional IP addresses.
Anti-Malware – Following that, the service scans the emails for any malware available in it. Exchange Online Protection uses the anti-malware policy to check and scan for any probable harmful email or attachments and quarantine those emails. You can configure the policy in the security center.
Mail Flow Rules – In the third step, the email message is then processed by the mail flow rules. These rules can warn the recipient of the harmful content of the message and block attachments associated with the message.
Content Filtering – Finally, the last step consists of filtering the content based on the anti-spam and anti-phishing policies. All the harmful messages are scanned and identified as spam, spoofing, or phishing with an appropriate score. Moreover, you can configure the actions to be taken such as quarantine the email, mark it as junk, and many more within the policies.
What If You Don't Use Exchange Online Protection?
It is extremely crucial for users nowadays to keep their accounts secure from cyber attacks. These attacks are at a peak nowadays and emails are one of the primary ways used by attackers to enter into a user's device and infect it.
As a consequence, it becomes highly significant to set up Exchange Online Protection else you might face any of the following repercussions:
Receiving spam emails in Inbox
Exposed to Malware, Ransomware, and other threats
Failure in delivery of important emails.
Unable to identify spam emails
Vulnerability to unfiltered and uncensored content.
How You Can Use Exchange Online Protection Services in Office 365?
Once knowing the importance of EOP, now let us have a look at how we can set up it. In spite of the fact that it is not difficult for most organizations, many large-sized organizations might face a few issues due to their custom compliance rules, multiple domains, or hybrid mail flow.
One can configure Exchange Online Protection from Exchange Admin Center in https://outlook.office365.com/ecp/. Once you open and login into EAC, click on the Protection tab available on the left menu.
Here, you will see various options to customize the service as per your needs. You can customize the following parameters:
Malware Filter Notifications
Spam Quarantine
Outbound Spam
Connection Filters
International Spam Filters
Bypass Exchange Online Protection
Limitations of EOP Service
Even though Exchange Online Protection comes with a wide range of useful features, there are some limitations associated with it. Those limitations are:
Domain Limit – There is an upper limit for the number of domains/subdomains that you can add to a single tenant. You should have equal to or less than 900 domains/subdomains if considered collectively.
Outbound Messages Limit – The service sets a limit on the number of outbound messages that one can send via EOP. However, it is adequate for most individuals, but the users who need to send out messages in bulk would need a third-party email service provider.
Message Size Limit – The Exchange Online Protection in Office 365 sets a message size limit of a maximum of 150 MB. This size includes attachments attached to the email messages.
Received Limit – There is a limit as well on the number of messages that you can receive. The limit will allow you to receive less than or equal to 500 emails, and any email from a questionable source or with questionable content will be blocked from accessing your mailbox.
IP Allow or Block List Limit – This advanced service will allow you to configure only 1273 IPs in the Allow or Block list in the connection filter.
You Can Also Read the Steps to Export Exchange Mailboxes to PST via EAC and EMS
Concluding Words
The Exchange Online Protection offered in Microsoft 365 acts as a protective shield that guards the mailboxes hosted in Exchange Online. It protects the mailboxes from malware and spam attacks, thereby providing users with a safe and cyber-free environment. The service also provides various customizations as per the organization's needs to accomplish desired results.