The search option in Microsoft Outlook is one of the most used features that lets you search your emails like a pin in a haystack. There are multiple advanced search options as well that permit you to pinpoint your search. However, there are some instances when the Outlook Search stops working and you cannot find your old and important emails.
Hence, in this article, we will work on how to help you fix Outlook Search if it is not working. There are multiple fixes to this problem and we have tried to cover them in this blog. You can try all these solutions and get rid of the issue with ease.
Table of Content
1. Outlook Search Not Working? Try Windows Search Troubleshooter
Before we jump to the Outlook specific solutions, let us first try running the Windows Search Troubleshooter to ensure that everything is fine there.
1. For this, go to Start > Settings > Update & Security.
2. In the second step, navigate to these windows in the same order Troubleshoot > Additional Troubleshooters > scroll down and go to Search and Indexing > Run the Troubleshooter.
3. After running the Troubleshooter, it will list down the probable search problems that you are facing. Enable the "Outlook search doesn't return results" option checkbox and hit the Next button.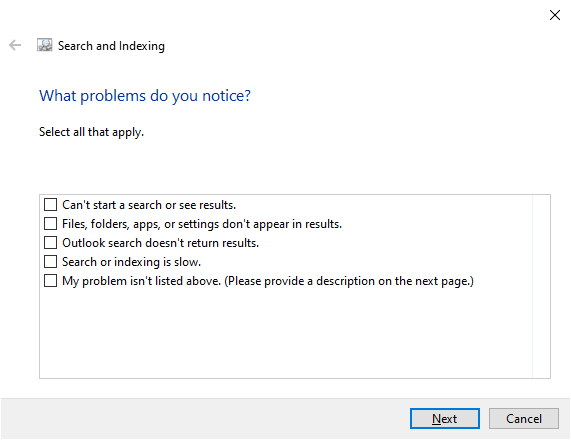 4. Once the Troubleshooter is done with fixing the issues, restart your system and check if Outlook Search is working or not.
2. Try Rebuilding Outlook Index
First of all, for users who don't know what Index is, it is a catalog that stores all the terms found in email messages. So, there could be chances that the Outlook Index is not working as it should and that is why the Outlook Search is not working.
In order to do this, you can go to the Outlook Index Repair Menu option and rebuild it.
1. Launch Microsoft Outlook and navigate to File > Options > Search. Here you will get "Indexing Options" button.
2. Click on it and then select "Advanced" option.
3. Under the Troubleshooting section, click on the Rebuild button and then click OK to proceed.
4. Once the rebuild process finishes, just restart your system and check if Microsoft Outlook's search option is working or not.
3. Check for Outlook's Index Location
If your Outlook search is not working properly in Windows 11 / 10, then check if Outlook is on the list of Indexed locations.
You can check it by following these steps in Outlook – File > Options > Search > Indexing Options.
Under the Indexing Options panel, choose the Modify option and ensure that the checkbox adjacent to Microsoft Outlook is checked. Following that, click on the OK button and finally restart the system.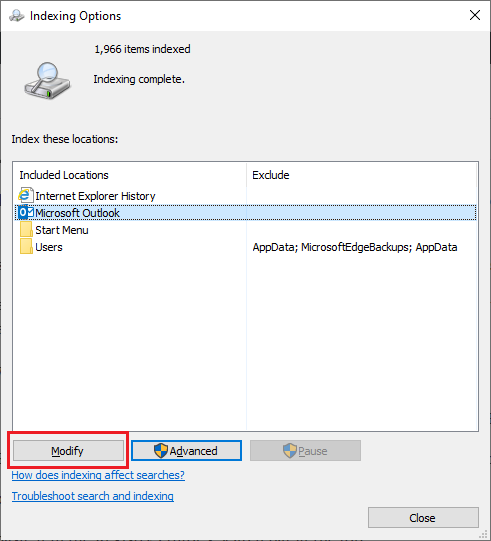 4. Outlook Search Not Working? Try Registry Editor
There are high chance that if you are facing an issue with Outlook Search, you can fix it with Windows Registry.
1. For this, you need to open the Registry Editor by opening the Run dialog and pressing Win + R keys.
2. Once the Run dialog opens, type regedit in it and hit the Enter button.
3. Now copy the below path and paste it in the Registry Editor's Search bar at the top.
Computer\HKEY_LOCAL_MACHINE\SOFTWARE\Microsoft\Windows Search
4. When the respective window opens, right-click on the empty space in the right pane, click on New option, and then select the DWORD (32-bit) option.
5. Name the newly created item as "PreventIndexingOutlook" and set its value to 0.
6. Finally, hit the OK button and restart your computer.
This process might fix your problem if the Outlook search option is not working properly.
5. Update to the Latest Version of Outlook
Do you even remember the last time you updated your Outlook? Or are you updated about the currently running version of Microsoft Outlook? If you are running an outdated or an older version, then that might also be one of the reasons why the Outlook search is not working.
So, let's have a look at how you can update to the latest version of Microsoft Outlook:
1. Open Microsoft Outlook and then go to File > Office account.
2. Here you will get an option named "Update Options". Expand that menu and click on the Update Now option.
3. Let the update process finish and then restart Outlook.
Important Note: If you don't see any Update option in your Outlook, then your Workplace might be using some policy to stop manual updates. Additionally, there could be a possibility that you might be running a pirated version of Microsoft Office / Microsoft 365.
Another Possible Reason Why Outlook's Search Option is Not Working
Although we have discussed all possible solutions for the Search functionality, there could be a damaged PST file as well causing issues in returning desired search results. If you are in doubt about the health of the PST file, then you can try using a third-party tool and get your PST file fixed.
Conclusion
If you are also one of those users who are facing issues with Outlook search, then this is the best blog for you. Having Microsoft Outlook's search option not working properly can hamper your workflow. Thus you can try all these fixes discussed in the above section and enjoy a seamless functioning of Outlook.