Whenever you plan to sell, donate or dispose of your laptop or PC, it is always recommended to permanently delete its data. This process is highly crucial to maintain data privacy and prevent data breaches. In such scenarios, choosing the best data wipe software is really helpful as it eliminates the chances of data recovery from the device.
In the following section, we have shortlisted the top 7 data wipe software that you can use to wipe data from your laptop or PC. Along with tools, we will explain the features that they offer, their pricing, and the benefits and drawbacks of each tool.
List of 7 Best Data Erasure Software
1. BitRaser Drive Eraser
BitRaser Drive Eraser is one of the most-rated data erasure software that comes with secure and efficient data deletion. This application supports data wipe from multiple storage devices like Hard Drives, SSDs, USBs, etc. The utility comes with numerous advanced algorithms that you can use to ensure that the data is irrecoverable.
Different data wipe methods offered in this software are DoD 5220.22-M, NIST 800-88, Russian – GOST R 50739-95 (2 passes), Peter Gutmann (35 passes), and many more. This data wipe software comes with a user-intuitive interface and is one of the best options for both individuals and organizations.
Pros of BitRaser Data Wipe Software
Exhaustive Data Erasure Software with support for multiple storage devices.
Numerous Advanced algorithms to make sure your data cannot be recovered.
Easy to use utility makes sure that even a non-technical user can use this utililty.
Offers customization of data wipe algorithms
Provides detailed data erasure report for compliance needs
Cons:
The advanced customizations need some additional configurations
This software might not be the best utility for those who are looking for a free software
Price – BitRaser Drive Eraser's pricing for personal use starts at $20 per drive wipe. However, Enterprise based licensing is only available upon request.
2. Blancco Drive Eraser
Blancco Drive Eraser is another top data wipe software that ensures the permanent deletion of critical data. It comes with a certified data erasure process that meets all Industry regulated standards like ISO 27001 and ISO 9001. Just like the aforementioned utility, this application also supports multiple data wipe algorithms like DoD 5220.22-M, HMG InfoSec, and much more.
This data erasure utility is compatible with multiple storage devices like HDDs, SSDs, and RAID systems. It also comes with a centralized dashboard / management console that permits administrators to monitor and control the data wipe process across multiple devices.
Pros:
Certified data wipe process that meets all Industry regulated standards.
Offers numerous data erasure algorithms to choose from.
A centralized dashboard that gives you enterprise-level control.
Cons:
The interface might feel complex for beginners.
Price – You need to pay around $18 for Blancco Drive Eraser – Home Edition to wipe data from the drive.
3. Disk Wipe Data Erasure Software
Disk Wipe is a simple yet effective data wipe software that works by overwriting the entire data stored on the disk with some random data. This application ensures that all the previously stored content is eradicated from the device. The tool comes with multiple wiping standards like DoD 5220.22-M, the Gutmann method, etc.
You can boot this utility via a USB drive which makes it one of the most convenient data erasure software. Although it doesn't come with various advanced sets of features unlike other enterprise-grade solutions, its free-to-use option makes it a top choice for many individual users.
Pros:
Free to use
Comes with different data wipe algorithms
Offers a user intuitive interface
Cons:
Doesn't come with customer support as compared to other paid options
Lacks various advanced features and customizations
Price – This data wipe software is completely free to use. However, you can make a donation if you want to.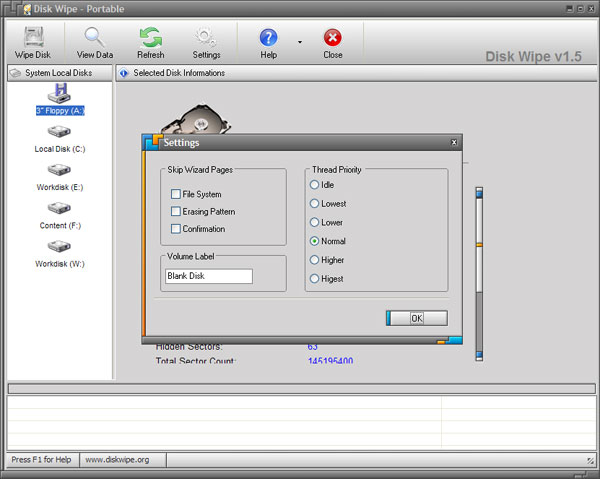 4. HDShredder 6
HDShredder 6 is also one of the best data wipe software that permits you to permanently erase data from HDDs, SSDs, USB drive, and memory cards. Various data wipe algorithms that this utility supports are NIST 800-88, DoD 5220.22-M, and some custom algorithms as well.
HDShredder 6 data erasure software comes with a user-friendly interface and allows creating bootable media to permanently wipe data from multiple storage devices simultaneously. Additionally, the tool offers detailed data wipe reports that are required for compliance purposes. This functionality makes it a suitable utility for businesses as well.
Pros:
Supports data wiping from multiple storage devices
Comes with several data erasure algorithms including some custom algorithms
Offers detailed erasure reports that are important for compliance purposes.
Cons:
There are some advanced features that are only available in the paid versions
Price – HDShredder 6 comes in 6 different editions where the base one is the free edition and the highest one is the Enterprise edition. The pricing is different for each edition and offers different capabilities. However, the pricing for the basic edition starts from around $18.
5. PrivaZer
The fifth tool that comes in the list of the best data erasure software is PrivaZer. This utility comes with many advanced features like erasing files and folders and cleaning residual traces from system areas like browser history, registry, etc. The data wipe algorithms that this application support are DoD 5220.22-M and Gutmann.
This data wipe software comes with an intuitive interface and offers multiple customizable scan options that make it one of the best choices for users.
Pros:
Offers to trace residual dues and clean them for extra privacy
Comes with multiple wiping methods
All-in-one tool for the best data-wiping experience
Comes with a free version with limited functionality
Cons:
The scanning process might take a long time when compared to other data wipe software
This tool is perfect for overall system privacy and not just for data erasure
Price – Although this software comes with a free edition with basic functionality, you can also get the Pro version by supporting the solution providers. You can pay as low as $10 or some large amount as well depending on your will.
6. Hardwipe Data Wipe Tool
This utility's primary focus is to offer a seamless and effective user experience. Along with simplicity, it offers various data-erasing methods like DoD 5220.22-M, Gutmann, and several other customizable options. This data erasure utility offers you to either erase selective files and folders or complete drives.
This application integrates with the Windows context menu that permits users to securely perform data wipe from their storage devices. Although this utility lacks some of the advanced features offered in enterprise-grade solutions, this utility proves to be one of the best data wipe utilities for individual users.
Pros:
Comes in a free version that offers all essential features
Offers various wiping methods for secure deletion
The portable edition makes it easy to erase data from multiple machines
Focuses on quick and simple data wipe process
Cons:
Lacks some advanced features that are available in other data wipe software
Not a preferred solution for large enterprises
Price – Hardwipe is completely free data wipe utility.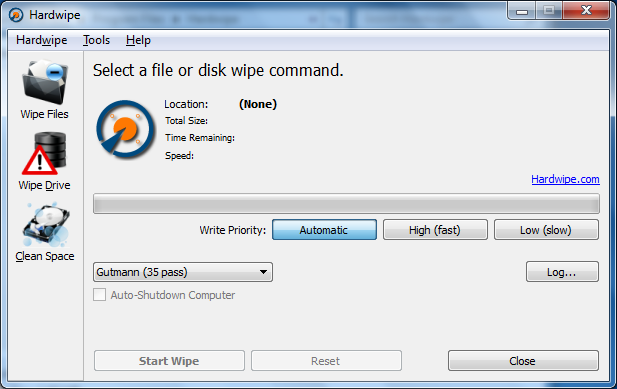 7. File Shredder
This is a lightweight data erasure software that is the perfect solution to remove your data permanently. File Shredder software is completely free for use for both individual users as well as enterprises. This utility also supports various data wipe algorithms like Gutmann and DoD 5220.22-M. You can choose any of these algorithms and erase your data permanently.
As it is a free solution, it comes with basic functionalities and is best suited for individual users.
Pros:
Quick and Efficient Data Wipe Software
Completely free-to-use utility for individual and enterprise users
You can Shred only free disk space in this tool
Cons:
Doesn't offer advanced data wipe functionalities
The user interface is not that superior as compared to its alternatives
Price – File Shredder is also a free-to-use data erasure software.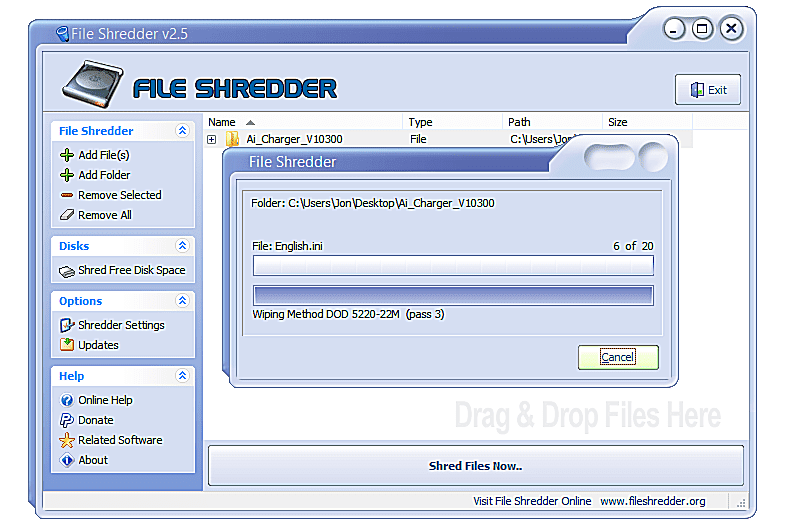 Conclusion
It is essential to choose the perfect data wipe software as you cannot compromise your crucial and sensitive data. In this list, we have reviewed BitRaser Drive Eraser, Blancco Drive Eraser, HDShredder 6, Disk Wipe, Hardwipe, PrivaZer, and File Shredder. All these utilities offer a wide range of features and each software has its own set of pros and cons. This review of top data erasure tools can help you select the most suitable software to protect your data from unauthorized access and data breaches.